Marcello Corti's BIO / ENG
Marcello Corti is a conductor, promoter, composer, and a creative talent: he has dedicated his life to music with strong enthusiasm. He has been dedicating his career to numerous music genres varying from classical to contemporary music, folk to art music, involving both amateur and professional musicians. He studied Conducting at the Accademia Chigiana of Siena under the supervision of Gianluigi Gelmetti and Michel Tabachnik. Moreover, he completed a master's degree in Conducting at the Swiss Music Academy 'Conservatorio della Svizzera Italiana' under Franco Cesarini. His teachers also included Vittorio Parisi, Lior Shambadal, and Maurizio Dones.
He curated Quattro Decibel music festival in Lecco's Theatre 'Il cenacolo Francescano' and Caslino d'Erba's San Gregorio Festival. He is the artistic Director of ANBIMA Lombardia's Workshop, and he also co-founded the Banda Giovanile Rappresentativa ANBIMA Lombardia. During his career he conducted the 'Liceo Coreutico Musicale Giuditta Pasta's Orchestra in Como. He consistently collaborates with the Banda Sociale Meratese, the Corpo Musicale of Caslino d'Erba, and the Corpo Musicale Giulia Recli in Brivio. Furthermore, he has been invited as a guest conductor at the Santa Vittoria Music Camp of Santa Vittoria in Matenano.
Marcello Corti records with the London music label 19'40". In addition to his recording activity as a conductor, he also performed with the Civica Filarmonica in Lugano, where he played for seven years under the direction of Franco Cesarini.
With Esecutori di Metallo su carta he also directed Pinocchio! with music by Fiorenzo Carpi and Francesco Bianconi's (Baustelle) recital. As a recording artist, recent releases include Igor Stravinsky's 'The Soldier's Tale' and Gustav Holst's 'The Planets'. He recently recorded At The Gates of The Twilight Zone, a retrospective on the music of Bernard Herrmann.
In addition to his music activities, Marcello Corti is a teacher and presenter. He currently teaches at the Civica School in Lecco and at the San Francesco Music school in Merate. He also hosts the workshop Laboratorio Orchestrale at the Civica music school in Lecco. With natural talent, he engages in music storytelling with both young and adults: he succeeds in including students and amateurs of all ages. He holds a degree in Trumpet from the Conservatory Giuseppe Verdi of Como and a degree in Methods and Topics of Arts Managements at the Cattolica University of Milan.
Marcello Corti è direttore, divulgatore, scrittore e creativo. La sua attività musicale è una continua contaminazione e un incontro di generi differenti: Marcello Corti si muove agilmente tra musica classica e contemporanea, popolare e colta, tra professionisti ed amatori. Con la sua direzione energica è in grado di coinvolgere musicisti e pubblico di tutte le età in percorsi musicali innovativi ed originali.
Dal 2022 collabora con l'Orchestra Sinfonica di Milano: partecipa al cartellone Educational e al cartellone POP's. Inoltre è direttore dell'Orchestra Sinfonica Junior, la formazione 16-19.
Marcello Corti è direttore dell'Esecutori di Metallo su Carta ensemble. Con Enrico Gabrielli, Sebastiano De Gennaro e Francesco Fusaro porta la musica contemporanea in luoghi eccezionali: ha inciso nel Padiglione Francia della Biennale di Venezia, ha aperto il MIAMI Festival del 2017 calcando il palco estivo del Magnolia, si è esibito nel cortile di Palazzo Reale a Milano e nel chiostro di Santa Maria Novella a Firenze per la Milanesiana, ideata e diretta da Elisabetta Sgarbi e sull'Isola Maggiore del Lago Trasimeno.
Oltre ad aver affrontato numerose prime esecuzioni di compositori viventi e il repertorio contemporaneo principale, lavora costantemente per eseguire ed incidere musica inedita: insieme alla collana discografica 19'40" esplora il lavoro di compositori non inseriti nelle grandi programmazioni di musica contemporanea.
Marcello Corti racconta la musica a grandi e piccoli, riuscendo a coinvolgere e ad emozionare appassionati e studiosi di tutte le età: con parole semplici è capace di condurre bambini nel magico mondo degli strumenti musicali e di spiegare con parole semplici i compositori ed i loro capolavori. La sua esperienza educativa è riassunta in Educare all'ascolto, all'interno del libro In ascolto della bellezza pubblicato nel 2021 in collaborazione con CIOFS Lombardia.
Sostiene e promuove la cultura bandistica: oltre a dirigere la Banda Sociale Meratese, collabora con ANBIMA Lombardia, ANBIMA Lecco e ANBIMA Pavia promuovendo progetti di musica d'insieme per fiati e percussioni. È direttore artistico dello Stage Estivo ANBIMA Lombardia e della Banda Giovanile della Lombardia; cura numerosi eventi e rassegne sul territorio come il Festival Fiati della Città di Lecco, Piccoli&Grandi insieme Musica, il Festival Agnesi.
Ha studiato Direzione all'Accademia Chigiana di Siena con Gianluigi Gelmetti e Michel Tabachnik ed ha conseguito il Master di II livello in direzione presso il Conservatorio della Svizzera Italiana con il Maestro Franco Cesarini e ha approfondito la direzione del repertorio contemporaneo con Vittorio Parisi.
Stage Estivo ANBIMA Lombardia, Casargo (LC), ITA
Banda Giovanile Regionale Rappresentativa ANBIMA Lombardia, Matera, ITA
Orchestra Sinfonica Junior, Belgrade RS
Festival Agnesi, Merate, (LC), ITA
Festival Agnesi, Merate, (LC), ITA
Banda Sociale Meratese, Chioggia, ITA
Banda Sociale Meratese, Merate, ITA
Corpo Musicale G. Recli di Brivio, Brivio
Esecutori di Metallo su Carta @ Triennale di Milano
Banda Giovanile Rappresentativa ANBIMA Lombardia, Paderno Dugnano, MI
Orchestra Sinfonica Junior di Milano, Auditorium di Milano, MI, ITA
Orchestra Sinfonica Junior di Milano, Auditorium di Milano, MI, ITA
Marcello Corti for the young people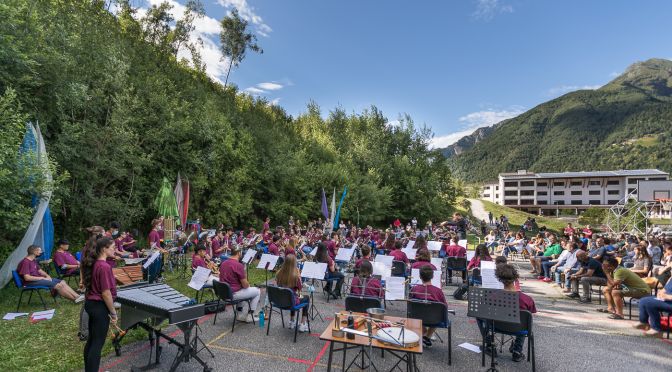 Marcello Corti is the artistic director of the ANBIMA Lombardia Summer Stage, the summer course organized by ANBIMA Lombardia for over 20 years.
The 2023 edition will take place in Casargo from July 1st to July 16th.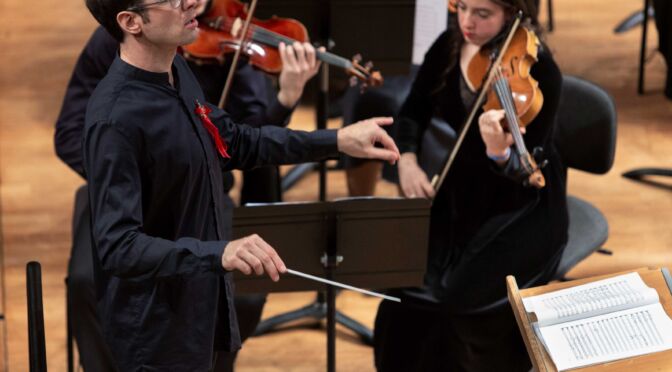 The Junior Symphony Orchestra is the ensemble that involves girls and boys from 16 to 19 years old, organized by the Milan Symphony Orchestra.
The Junior Orchestra accompanies young musicians through the great symphonic repertoire.
Marcello corti's COLLABORATIONS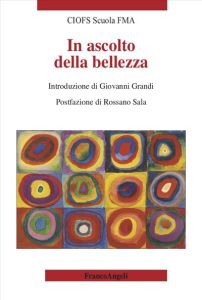 Pope Francis' words in Christus Vivit [223] are more than sufficient to justify the effort made to compose the text Listening to Beauty and recommend its reading. Through greater beauty, Orpheus' song mesmerizes and conquers the sirens, catching them off guard in their own field, that of singing and beauty that attracts, seduces, and impassions.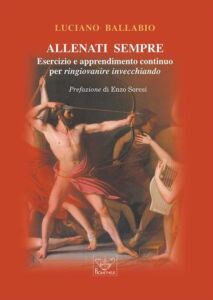 We should "reverse the usual perspective of those who see exercise as a strategy to improve their physical appearance. In fact, moving is the best thing we can do for our brain. Aerobic activity such as biking and running 'influences your concentration, memory, creativity, and stress resilience. It allows you to think faster and better manage mental resources.'"
"Train Always" includes a contribution by Marcello Corti.